Caring for your Tornado Tee
The flexible crown on the Tornado Tee means that it can become misshapen in your bag or shipping.
This is easy to fix. Press the flexible crown down around the tee base like an umbrella and pull back up to the normal position. Repeat this process two or three times to restore the original shape of your tee. Your tee will now easily hold a ball.
The flexible crown also means that you can manipulate the top of the tee for a wide or more narrow crown for your ball to rest on.
Teeing Up with Tornado Tee
To press your Tornado Tee into a hard tee box…
Press Down the Flexible Crown
Place the Ball On Top of the Tee with the Crown Compressed
Press the Ball and Tee Firmly into the Ground
Spring the Flexible Crown Back Up into Position
Replace Your Ball On Top of Your Tee
Order Your Tornado Tees… Click Here »
Previously created almost exclusively for World Long Drive competitors, the Tornado Tee is now available for everyone.
Warranty Information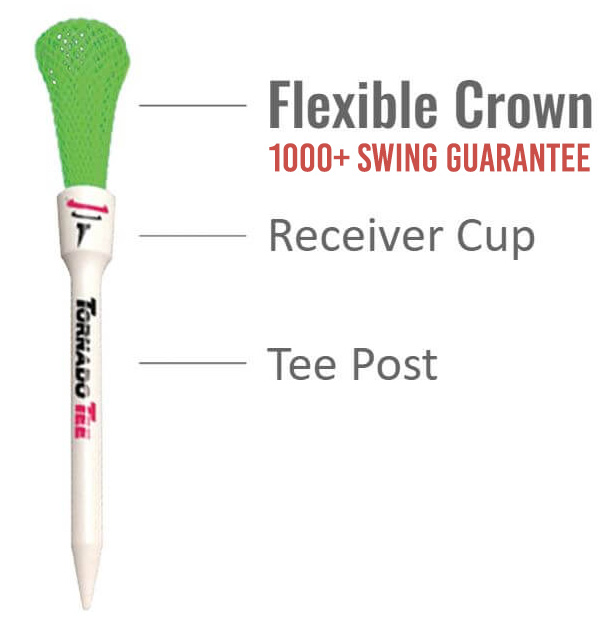 The Tornado Tee comes with a 30-Day Warranty that guarantees the tee against manufacturer defects.
The design of the tee is such that a good swing will not impact the hard plastic cup or post of the tee. However, if you do make contact with the post or cup and your tee breaks under normal conditions, let us know and we'll replace your tee. Please send a picture of your broken tee to receive a replacement.
The Tornado Tee also comes with a 1000+ Swing Guarantee on the flexible crown. (This does not cover the hard plastic cup or post.) Your tee will be good for at least 1000 swings or we'll replace your tee free of charge. This covers if the flexible crown becomes frayed or misshapen and will no longer hold a ball or if the flexible crown separates and comes out of the receiver cup. Please send a picture of your tee and an estimated swing count to receive a replacement. Note: this guarantee only covers normal golf activity.

<!—-script src="https://cdn.fastcomments.com/js/embed-v2.min.js">